By guest blogger, Lexie Maitland
Most of us know that privacy settings are extremely important in order to stay safe online. We all hear about how essential these settings are to maintaining our security. If privacy settings are so important, why don't more people use them? Is it because the 'less private' you are, the more followers you can get? Or, is it the fact that people just don't understand how critical privacy settings really are?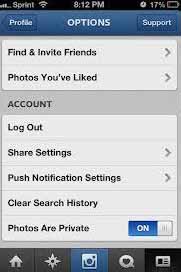 With just a simple click of a button, you can keep your social media accounts mostly out of the public eye- or so it seems.  But, every social media account is different- some settings are a click of a button and others are not so easy to understand.  Add to that changes and continuous updates being made to privacy settings, and it's a little daunting to keep up.
It's also true that it feels good to see your followers increase or when you have a high number of followers…and if your account isn't private,  everyone can follow and re-tweet you.  More followers + more engagement = happy teen. However, there are a lot of risks that none of us should feel comfortable taking.
Consider the following statistics:
1.  The fastest growing age group on Twitter is surprisingly the 55-64 year age group.* (This is especially important for teenagers to know because, who knows, the girl that you're following on Twitter that is supposedly 16 years old, could be a creeper in the 55-64 year old age group!)
2.  Out of all users on Facebook (1B+), only 25% of them have their privacy settings turned on.*
3.  The majority of teenagers on social media show little concern regarding their information being in the public eye. Only a staggering 9% say that they have a lot of concern regarding their information being viewed by the public eye.*
4. An astounding 71 percent of teenagers post the city or town in which they live in, publicly, on their social media account.*
Photo from flickr
It's hard to stay private.
Social media is part of the fabric of our society today.  It's easy to use, it's fun to connect with people, and the convenience of instant communication is what we expect.  We can't forget that there are some things that just shouldn't be made public.  The ease of using social media makes it unbelievably hard not to sacrifice our privacy.  And, I'm not going to lie, figuring out the privacy settings in most public social media is pretty tricky.
But, not everything should be public.
From a teen's point of view, I want my social media accounts to be public, but I know I need to be very careful about what I post.  There are a lot of things that happen in my life that I simply don't need every follower to see.  And, I certainly don't want to lead someone to my doorstep who has less than honorable intentions.  If only there was a simple solution that could make it easy for me to have a more private venue to share and post things that I just want to share with smaller groups of friends or family or my cheer team.. there is! And it's called Frienedy.
I'm guessing that most of you have probably heard about Frienedy given that my Mom is one of the founders, but do you realize how secure and private Frienedy is? Frienedy is that simple solution to preventing those random strangers from creeping on your account. Frienedy allows you to manage your life in groups and share only information that you want to share with any group in your account.
For example, if you create a group called "The Wolfe Family," no one other than the members you invited to "The Wolfe Family" will be able to see the content being posted in that group. And, if I have a picture I post to a group I call "Friends and Cousins", I don't have to worry that anyone else will see it.  Nothing I post in my Frienedy Groups will follow me around as I apply to college or with future employers.
My advice? 
Use your public social media accounts to make connections and communicate positively- because they are your billboard. Use private social media like Frienedy to choose what you share with different groups in your life and keep certain content contained within the groups meant to see it.
Sources:
http://www.pewinternet.org/2013/05/21/teens-social-media-and-privacy-2/
https://blog.bufferapp.com/10-surprising-social-media-statistics-that-will-make-you-rethink-your-strategy